At times, we were the only people on the river for miles. We didn't see a motorboat until halfway through day two. Except for Wilmington and Southport, we didn't see cities or towns, no matter how close they were to the river on a map. Civilization was never far away, but it was almost always out of sight, sometimes heard, occasionally smelled.
None of us had ever taken a kayak trip this long. Kemp was here, a little bit, out of a sense of responsibility. "I'm the Cape Fear riverkeeper and I've never paddled the entire river," he said.
Andrew wanted adventure. And pictures.
Chris thought of the Cape Fear as his home river, but also a prize. "To say you did a whole river, start to finish," he said, "I kind of wanted to put that notch in my belt."
Me? I thought back to my trip into the woods with Charlie. I simply wanted to follow the water. Forward. Downhill. To the sea. In doing so, I wanted to discover something. Sure, paddlers had traveled down the entire river before. But the number of people who had done it, let alone written about it, was small. Hence, the Cape Fear is well-known, yet mysterious. It is hard to know casually. Or in its entirety. On this trip, I could be something that few people get to be anymore: an explorer. I could understand the Cape Fear River in a way that few others do. But to do that, I would have to paddle it. All of it.
After four miles, we reached our first landmark: Mermaid Point, where the Haw meets the Deep, and the Cape Fear officially comes into being. We took pictures and ate apples. We tried to infuse this unmarked spot with meaning. The solemnity was tempered somewhat by roaring diesel engines and loud clanging as crews dismantled an old Progress Energy power plant nearby. Just downstream, Kemp paddled toward a rust-colored spot on the green bank, where chemicals seeped from a dormant coal ash pond nearby. Overall, the water quality of the Cape Fear wasn't bad, but it could be better, he said. Rivers are good at collecting things we've forgotten about.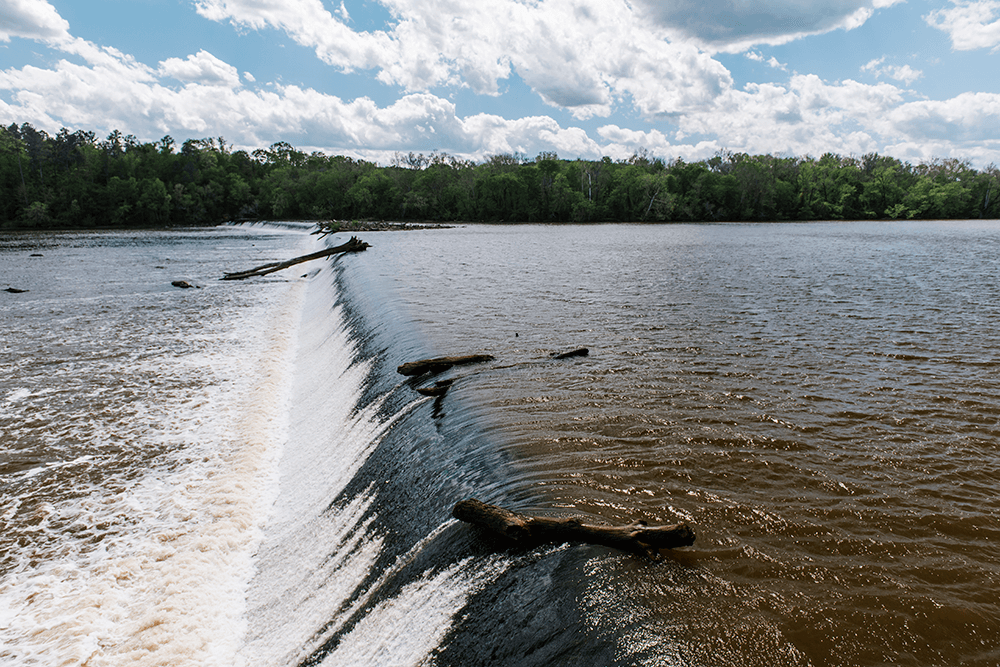 At Buckhorn Dam, a 12-foot-tall, river-wide wall with water pouring over its concrete top, we unloaded our boats, then pushed them up and over a vine-covered berm on shore. At Lanier Falls, one of many rock gardens with gurgling rapids between them, Kemp fell out, dumping his dry bags and coolers into the river, and shorting out his camp light. (He'd be unable to turn it off for the rest of the trip.) As the evening approached, the rocky outcroppings and 100-foot bluffs of Raven Rock State Park cast long shadows. We paddled to beat nightfall. As the last light of day faded beneath storm clouds over Lillington, we pulled our boats up a small asphalt ramp. Just then, the skies opened up, with lightning and pouring rain, and we sprinted toward the nearest shelter, Howards Barbecue. They agreed to stay open late so we could eat and dry off. Hush puppies, barbecue, black-eyed peas, catfish, beans, applesauce, okra, and chocolate cake disappeared in the blink of an eye.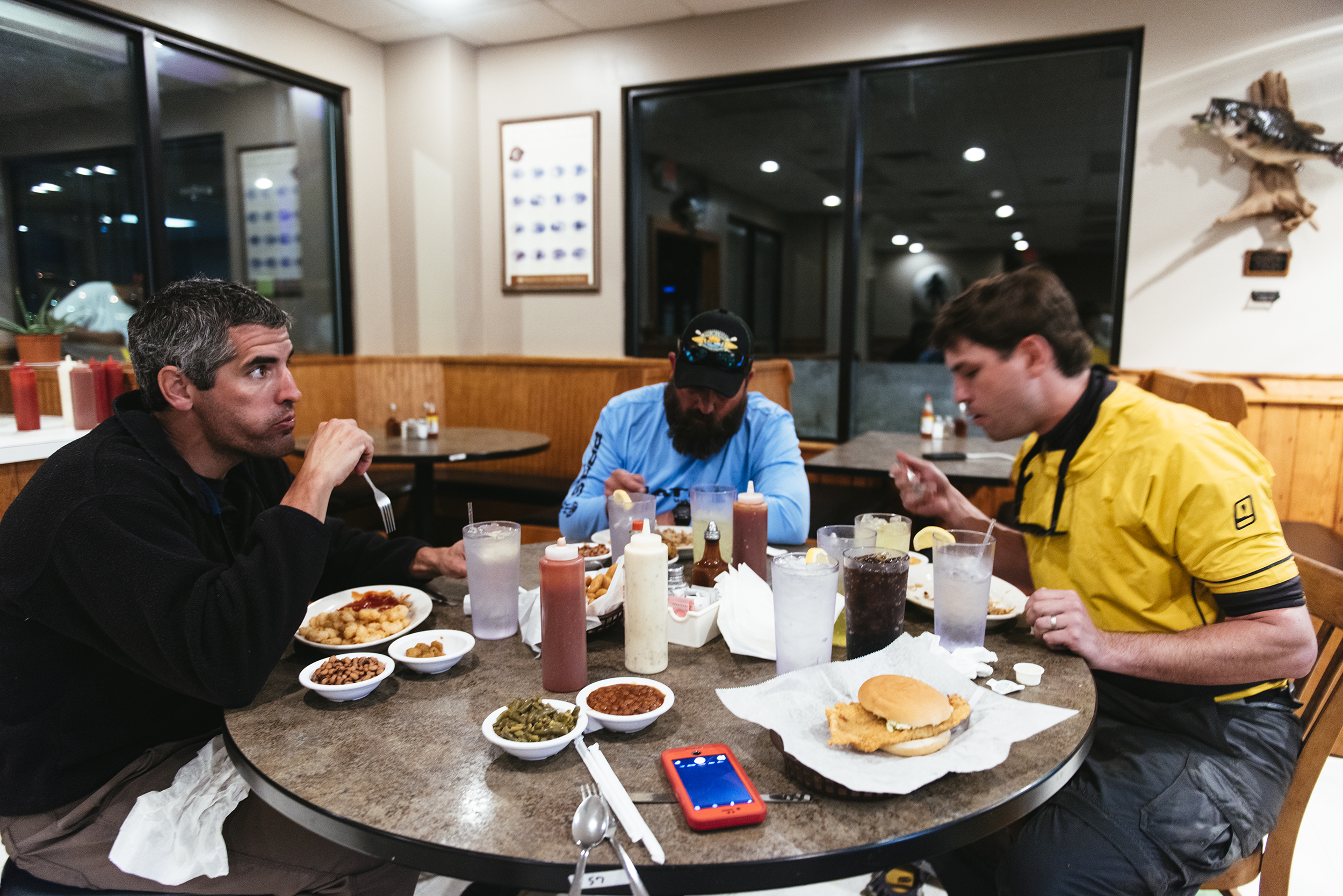 As we paid our bill, a teenager in a ball cap asked us how far we planned to go.
"To the ocean," I said.
His eyes widened.
The next morning, David Avrette came down to our little campsite behind his restaurant. "Son, this is eastern North Carolina," he said, offering us free coffee, water, and bathroom use (indoor restrooms would be a luxury on this trip). He'd moved Howards to this spot, a cleaned-up auto junkyard, in 1992, and his father worried about him being down there in a hole by the river. You'll get flooded out, he said. But David knew that Jordan Dam would protect him from the worst of the high water, and today, he owns the only restaurant within view of the Cape Fear on the 170 miles of river above Wilmington. Others may still be too scared to get too close.
After we paddled through Narrow Gap ("Go left," was David's only whitewater advice), we navigated our way through rocks, and followed wave trains until just past the Highway 217 bridge near Erwin. Up until that point, the Cape Fear was dropping an average of three feet in elevation every mile, and the resulting current gave us an extra two-mile-per-hour boost to our paddling. There was also plenty to see, and navigating the rapids kept our minds occupied.
Then, the water flattened.